Polytech
ChemPlusChem Month's Cover
Published on March 16, 2022
–
Updated on March 24, 2022
Designed by our colleague Ivan Jabin, the cover of our last paper in ChemPlusChem has been published online!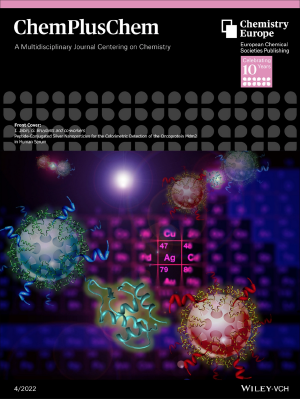 Peptide-Conjugated Silver Nanoparticles for the Colorimetric Detection of the Oncoprotein Mdm2 in Human Serum,
Maurice Retout, Bryan Gosselin, Alice Mattiuzzi, Indiana Ternad, Ivan Jabin and Gilles Bruylants, ChemPlusChem (First published: 20 December 2021).
http://dx.doi.org/10.1002/cplu.202100450

Read-only version are available: Cover profile / Article
The cover picture shows the principle of a colorimetric sensor, based on peptide-conjugated silver nanoparticles, for the detection of the cancer biomarker Mdm2. The particles were functionalized via a recently developed strat-egy based on the use of calixarene diazonium salts. The calixarene-based coating provides an unprecedented stability tothe silver nanoparticles, enabling their use as colorimetric reporters for in vitro diagnostics.
The cover was designed by I. Jabin (LCO) and published thanks to the financial support of the "
Fondation Universitaire
".